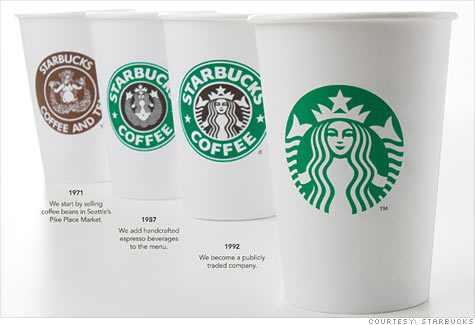 CNNMoney reports that Starbucks is kicking off their 40th anniversary with an updated version of their famous siren logo. Gone are the circle enclosure and words "Starbucks Coffee", a grandiose move reserved only for the most recognized brand symbols ala Nike's swoosh mark. They've also reduced the identity to one spot color green – no more black.
"Now, we've given her (siren) a small but meaningful update to ensure that the Starbucks brand continues to embrace our heritage and also ensure we remain relevant and poised for future growth," said Howard Shultz, Starbucks' president and CEO.
So, what do you think of the update – Like it or Lump it?
Rajan is the founder and Editor-in-Chief of BIG Marketing for Small Business. He's an award-winning marketing strategist who is passionate about branding, digital marketing and social media. He spent nearly a decade as the marketing executive at global IT firm Peer 1 Hosting and was instrumental in their explosive growth.